INTERACTIVE-LIVE-STREAMING The English Lovers Ready … Steady … SNOW!!! ab 2. Dezember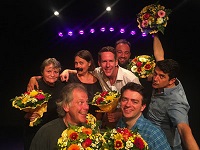 Foto: The English Lovers
Vom 2. bis 19. Dezember, Di-Sa um 20 Uhr, zeigen wir die English Lovers Weihnachtsshow als Live-Stream-Event. Tickets bekommen Sie hier: https://www.eventbrite.at/o/english-lovers-31844654037
Der Verkauf startet am 24. November.
From December 2nd till December 19th Tues-Sa at 8 pm we will present the English Lovers Christmas Show as a live-streamed online event.
Get your tickets here: https://www.eventbrite.at/o/english-lovers-31844654037
Sales will start on November 24th.
So…it's your typical Covid Christmas. You are alone at home, or chafing at the loved one's bits, and can't seem to generate enough Christmas spirit to fill a thimble. You want to have a friend or two in to relieve the monotony and revive the conviviality, but the idea of drinking punch through a surgical mask doesn't get you ho-ho-ho-ing.
Never fear! This December the Lovers will be streaming Ready … Steady … Snow! live from Theater Drachengasse, Tuesday through Saturday, so no one will have to miss out on their usual patented mix of wanton wit and musical madness. Once again the Lovers will send seasonal tradition and taste back to the drawing board in a special online impro show developed just for you!! Join them as they burn the Yule log down in a blaze of hilarity, and put the spice back in your nog.
---