Vormittagsvorstellungen/Abendvorstellungen ab dem 15. Lebensjahr Dezember 20 #Christmas #fun #EnglishLovers READY ... STEADY... SNOW...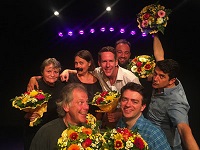 Foto: The English Lovers
Vormittagsvorstellungen, mind. 25, max. 42 Personen
Christmas, Ready or Not!
Optionale Termine: 2. – 18. Dezember 2020, Di-Fr, Rahmenzeiten: 11-14 Uhr
Dauer: 60 Minuten
We've all had enough of virtual interaction this year, so join the English Lovers for an hour of real interactive Christmas fun! Your pupils will get to use their English, suggesting scenarios and characters for improvised scenes, or even providing lines of dialogue for the players. There will be no pressure, no grades and no mistakes, just a lot of laughs and maybe some new insights into life. It's about time we all had something to laugh about!
Abendvorstellungen:
READY ... STEADY... SNOW...
1. Dezember – 19. Dezember 2020
Beginn: 17:00*
Dauer: 75 Minuten
Details http://www.drachengasse.at/spielplan_detail.asp?ID=929
* Aufgrund des verminderten Sitzplatzangebotes bieten wir um 17:00 und 20:00 Doppelvorstellungen an. Für Schüler*innengruppen stehen nur die 17:00 Vorstellungen zur Verfügung. Wir bedanken uns für Ihr Verständis.
With: Anne Weiner, Bronwynn Mertz-Penzinger, Dennis Kozeluh, Jacob Banigan, Jim Libby, Kathy Tanner, Michael Smulik, Sophie Kozeluh
Improvised Music: Klaus Erharter, Belush Korenyi
Improvised Lighting: Michaela Pink, Johannes Kirchner
Infos und Anmeldung:
Kathrin Kukelka-Lebisch, 01/512 13 54
kathrin.kukelka-lebisch@drachengasse.at
---