LADY DAY AT EMERSON'S
BAR AND GRILL
by Lanie Robertson
back due to popular demand
a production of vienna theatre project
Theater Drachengasse

20. September – 1. Oktober 2022
Di-Sa um 20 Uhr

Tickets will be available in our webshop as of August, 15th.
vienna theatre project presents this phenomenal, award-winning Broadway and West End hit. Through a series of iconic songs and storytelling, we capture the brilliant singer Billie Holiday as a simultaneously strong and desperate figure who finds some solace in her songs, but more in her own personal "moonlight" of drugs, booze and memories. This moving piece is far from a simple songbook, it is a powerful struggle.
Book a seat at the venue. The time is 1959. The place is a seedy bar in Philadelphia. The audience is about to witness one of Billie Holiday's last performances, given four months before her death. More than a dozen musical numbers are interlaced with salty, often humorous reminiscences to project a riveting portrait of the lady and her music.
Williams embodies Billie Holiday on stage with extraordinary charisma and presence. The interaction with the grandiose jazz band Fagner Wesley Trio is also great. Absolutely worth seeing.
Kultur-Schatulle
Thanks to Lynne Ann Williams' convincing commitment, the show is a great success.
FALTER
Stage Director: Joanna Godwin-Seidl
Co Producer: Dave Moskin, Ine Gundersveen
Music Director: Fagner Wesley
Fagner Wesley Trio: Piano: Fagner Wesley Bass: Michael Acker Drums: Jonathan Sarikosi
Starring: Lynne Ann Williams
Performance licence: Gersh Agency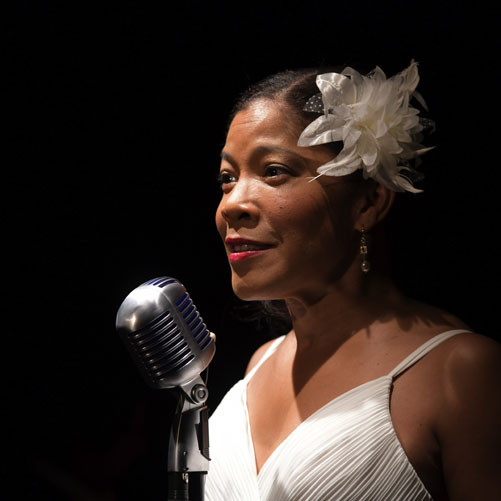 Spielplan Januar 2022