DRAMA QUEENS, AND A KING!
Bar&Co
1. - 4. Februar und 8. - 12. März 2011 um 20 Uhr
Being an actor is a dog's life. An evening of comedy and drama, revisiting the world's most famous playwrights as 4 desperate actresses compete for one role and a man's attention.





Director: Kathy Tanner
Starring: Adrienne Ferguson, Joanna Godwin-Seidl, Bronwynn Mertz-Penzinger, Brigitte Pekarek, Brian Hatfield u. a.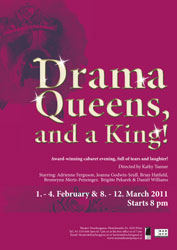 Spielplan Januar 2022