Bar&Co
6. - 17. Oktober 2009, Di-Sa Um 20 Uhr
Special Programm STILL CHILL am 15. Oktober 2009

To the End of Love: Geschichten voll Leidenschaft, Poesie und Leichtigkeit, tragisch und komisch wie das Leben selbst – Songs mit Akkordeon von den Anfängen des Tonfilms bis in die Jetztzeit.
Carlos Gardel, Zarah Leander, Anny Ondra, Edith Piaf, Marylin Monroe, Wesley Tuttle, Hildegard Knef, Leonard Cohen und Rocco Granata – sie alle haben zum Akkordeon gesungen, in Filmen wie El Día que Me Quieras, La Habanera, Baby, Montmartre-sur-Seine, The River of No Return, Illusion in Moll, Marina ...
Musik aus Meisterwerken von Polanski, Preminger, Fellini, Kusturica und Almodóvar und Filmen wie Frida, Il postino und Die fabelhafte Welt der Amélie.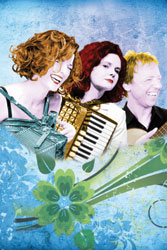 Spielplan Januar 2022